Southwest M.O.S.T. kicks off Entrepreneurship Institute with Pulitzer Prize-nominated author Clifton Taulbert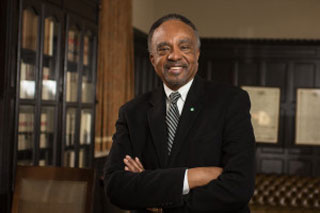 More than 100 individuals tuned in to MS Teams Nov. 4 to mark the launch of the Men of Southwest Tennessee Entrepreneurship Institute and to hear words of wisdom Clifton Taulbert, a noted entrepreneur and famed author of Once Upon a Time When We Were Colored.
The M.O.S.T. Entrepreneurship Institute is a pilot project funded by an innovation grant from Southwest's Student Success Council that will initially focus on infusing an entrepreneurial mindset among students and the culture of the college through curriculum development, experiential learning opportunities, online ed2go courses, workshops, events and activities. The Institute's leadership intends to build foundational support for this campus-wide project through the participation of faculty, administration and community stakeholders.
"Our desire from the start was to enhance the retention and graduation efforts of students by introducing a new way of thinking about themselves and the world that is fueled by a spirit of enterprise," said the Institute's project leader, Kariem-Abdul Salaam, director of Project M.O.S.T. "The Institute is presently for students; however, we intend to make it a permanent part of the college that the entire community can embrace."
The kick off attendance was a sign that the Institute is well on its way to being embraced by the community as many of the participants applauded Taulbert who spoke from the heart as he encouraged them to adopt a growth mindset. "When you think 'I can achieve more', it is an incredibly powerful message to yourself," he said. Taulbert also advised the group to seize the opportunity. "Solve problems. Innovate. See past the reality and look for opportunity in problems," he said.
Taulbert also shared how he persisted, despite years of rejections related to his first novel Once Upon a Time When They Were Colored, which went on to be a bestseller and a hit feature film starring Phylicia Rashad and Leon Robinson. The story is based on Taulbert's life and how his uncle who owned an icehouse in the Mississippi Delta instilled a strong work ethic and an entrepreneurial mindset in him.
"Be persistent," Taulbert said. "Resolve to succeed. Your own resolution to succeed is more important than any other."
Students interested in becoming a member of the Institute must fill out the Entrepreneurship Institute Application and participate in an evaluation and orientation. The application process and membership are free and enrollment will be on an ongoing basis.
For more information about the Entrepreneurship Institute, contact Kariem-Abdul Salaam at ksalaam@southwest.tn.edu or Predominantly Black Institute (PBI) Grant Secretary Kayla Tunstall at ktunstall@southwest.tn.edu.
Diana Fedinec contributed to this article.