TBR honors late Dr. Charles Temple with inaugural commendation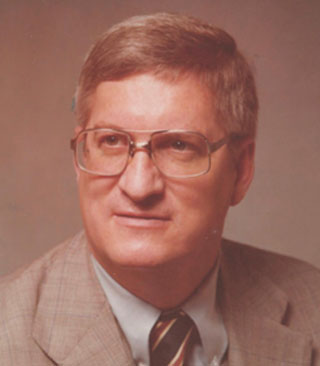 Tennessee Board of Regents marked Veterans Day with its first-ever Chancellor's Commendation for Military Veterans awards to honor military veterans at Tennessee's community and technical colleges. One of the inaugural recipients was the late State Technical Institute at Memphis president Dr. Charles Temple.
The Tennessee Board of Regents and Chancellor Flora W. Tydings established the new commendation as a system-level award to honor the service, bravery and sacrifices of military veterans in the campus communities. It supplements Veterans Day ceremonies, observances or recognitions that the colleges traditionally conduct.
Southwest President Dr. Tracy D. Hall nominated Dr. Temple for the posthumous honor. "This is a small token of our great esteem and gratitude for the sacrifices and contributions Dr. Temple made as a member of the United States Marine Corps for nearly 40 years and as an august educator in Tennessee for 25 years," President Hall said.
Dr. Hall presented the award, a military challenge coin, to Dr. Temple's wife, Dr. Patra Temple, during a virtual ceremony on Veterans Day, Nov. 11. Dr. Temple was moved by the gesture. "It means so much to have Charles honored in this way," she said. "I will treasure the coin and place it among the many mementos of him and his time at Southwest that I have gathered over the years."
Dr. Charles Temple served as a professor and administrator in the University of Tennessee system prior to serving as president of State Tech beginning in 1983. In 1989, U.S. News and World Report rated State Tech as one of America's best colleges. Following his retirement in 1995, Dr. Temple and his wife continued to search for areas where the College could excel and tirelessly advocated on its behalf. Dr. Temple was interred with full military honors at Arlington National Cemetery in Washington, D.C., in May 2017.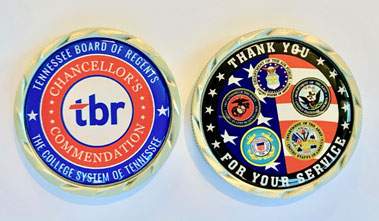 TBR Chancellor's Commendation Challenge Coin