Southwest and Generation USA partner to offer free online IT trainings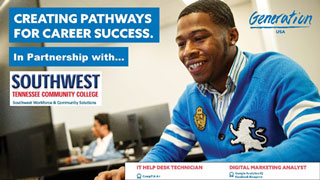 Covid-19 has transformed daily living and working into a new virtual reality, prompting the need for companies to hire more individuals who are tech-savvy. But many employers cannot find people with the skills necessary to do the job.
Generation USA is helping to bridge the skills gap in communities across the nation by partnering with local colleges to offer free IT career trainings in areas hit hardest by COVID-19. The trainings provide promising career pathways that offer upward mobility, livable wages and an opportunity to become embedded in the IT industry. With their new corporate partner Verizon, Generation is poised to prepare 500,000 individuals for jobs of the future by 2030.
"When Generation USA reached out to President Hall and Southwest's workforce development team to explore an interest in partnering, we jumped at the opportunity," said Dr. Glenda Collins, Southwest's director of Workforce Programs & Partnerships. "Their commitment to partner with colleges that have an innovative workforce training space closely aligned with Southwest's efforts to reimagine how we train, educate and upskill individuals for today's jobs and those of the future." Like the workforce development model of Southwest, Generation seeks to empower individuals to build thriving careers through an education to employment pipeline.
The partnership offers two free online IT trainings to Memphians interested in becoming a Digital Marketing Analyst or IT Help Desk Technician. Out of the four professional training programs offered by Generation, these two careers had the highest number of job openings in the Memphis metro area. The college is also creating a new ramp for graduates to enter a degree or certificate program.
In addition to the training, participants will earn valuable certifications. Graduates of the IT Help Desk Technician class can earn the CompTIA A+ certification and graduates of the Digital Marketing Analyst training will be able to take the exam for Google Analytics IQ and Facebook Blueprint certifications. They will also have opportunities to explore different learning outcomes such as apprenticeships, internships, continuing education as well as full-time employment.
The deadline to apply for the trainings is Jan. 1, 2021. The full-time, weekday classes start Jan. 4, 2021 and last 10-12 weeks. All applicants must undergo an initial screening for eligibility and attend an orientation session beginning Dec. 16, 2020.
To learn more about the partnership program, watch Dr. Collins on WREG-TV's Live at 9 show.
For more details about the trainings and eligibility requirements, contact Dr. Collins at gdcollins@southwest.tn.edu or 901-333-4316.