Southwest schedules on-campus registrations; Appointments available beginning Dec. 14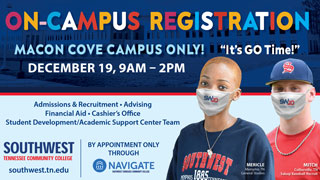 Southwest Tennessee Community College will hold on-campus registrations in December and January to help Southwest students get ready for the winter and spring terms.
The first on-campus registration is Saturday, Dec. 19 from 9 a.m. to 2 p.m. on the Macon Cove Campus in the Bornblum Library. Admissions & Recruitment, Advising, Cashier's Office, Financial Aid, Student Development and the Academic Support Center team will be on-hand at this one-stop shop to help students register for classes.
Safety is the highest priority. Appointments through the Navigate app are required and will be available beginning Monday, Dec. 14. Students are to reserve their spot at this special event using Navigate, the College's mobile app reservation system that can be accessed in the My.Southwest portal.
Students should arrive early the day of their appointment, park in the designated area where they will receive an alert from the Navigation app that they can proceed to the registration.
In addition to Saturday, Dec. 19, the following on-campus registration events are scheduled in January on both the Macon Cove and Union Avenue campuses:
Tuesday, January 5: 2 p.m. – 6:30 p.m.
Thursday, January 7: 9 a.m. to 2 p.m.
Saturday, January 9: 9 a.m. to 2 p.m.
January 11 – 15: 9 a.m. to 2 p.m. (Tuesday, Jan. 12 hours are 2 p.m. – 6:30 p.m.)
Saturday, January 23: 9 a.m. to 2 p.m. (Super Saturday)
Everyone visiting campus must pass an online health assessment and undergo a body temperature screening prior to being allowed on campus. Face masks must be worn while on campus.
Childcare will be available for students who are currently enrolled in the childcare program. Contact the Child Care Center at 901-333-4522 or 901-333-5233 to schedule a drop-off time. The Navigate app may be accessed at My.Southwest or downloaded in your favorite app store. Login using your Southwest credentials.