ShakeOut Day 2020 goes virtual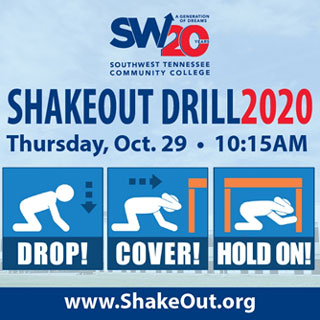 Are you prepared to survive an earthquake? What would you do? Earthquakes occur without any warning and may be so violent that you cannot run or crawl. Whether we live in earthquake country or may one day visit an area where earthquakes are possible, we need to know how to protect ourselves during earthquakes.
Each year, Southwest observes the Great Central Region ShakeOut, a day reserved to educate the public about how to take action when an earthquake strikes. It typically occurs on the third Thursday of October and involves students and employees participating in mock earthquake drills on campus.
This year, things got a little shaken up. Due to COVID-19, Director of Police Services and Public Safety, Chief L. Angela Webb, and her team decided to host a virtual mock drill Oct. 29 via MS Teams. The virtual format allowed students and employees to engage in a hybrid experience either at home or on campus.
How was that possible, you ask? Through the creativity of Webb's team, a unique video was produced that included a video clip of an actual earthquake with sound effects, followed by the sound of a blowhorn, which indicated to participants it was time to "drop, cover and hold on." Announcements about the exact time for the drill went out in advance of the event so that anyone on campus could participate at the same time as those at home.
The video also included historical information about earthquakes, why Memphis is at risk for experiencing an earthquake and demonstrations of how to survive one on campus.
"Covid did not deter us from organizing ShakeOut Day for the college," Web said. "We want all our staff and students to keep safe and to not be caught off guard when an earthquake strikes. We were thrilled by the level of participation in this life-saving event."
To watch the great Southwest ShakeOut Day video on demand, click on this link:
https://bit.ly/2HrrYE7