FROM THE PRESIDENT
Moving from what to why to what's next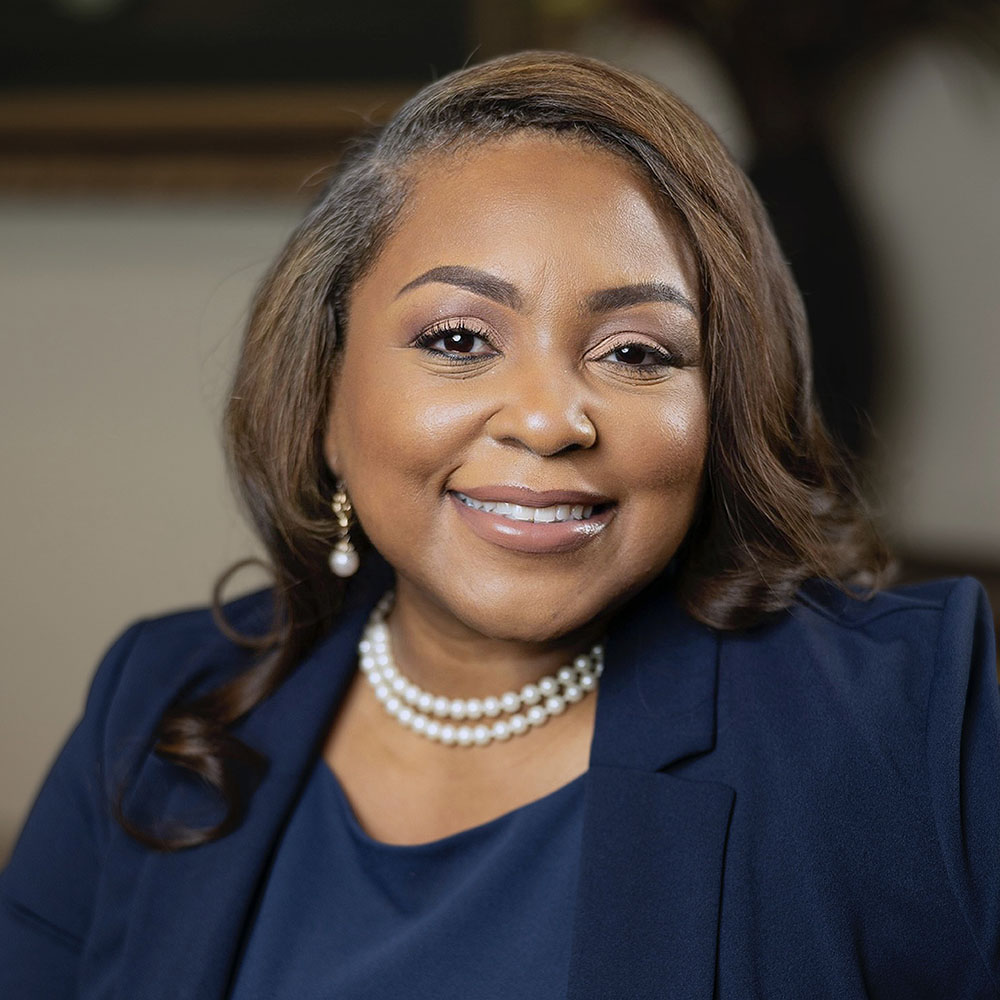 The year 2020 is undoubtedly one for the record books. We have experienced protests, a contentious and historic presidential election, AND a global pandemic that has changed life as we know it. One thing that has not changed, thankfully, is our collective dedication and commitment to student success.
We have come a long way since 2015 when the Huron Consulting Group informed us in a report that our Student Affairs processes were broken and in need of immediate attention. We sprang into action, joined Achieving the Dream, and set about redesigning, reinventing, and resetting every student service process—from recruitment to completion.
Our efforts have paid off. We increased enrollment by 10 percent in one year, doubled our graduation rate, closed achievement gaps between White and Black students, and increased wrap-around support services by adding a mental health counselor and a social services coordinator. We then turned our attention to teaching and learning and equity and began the earnest work of redesigning coursework to ensure that all students can reach their academic goals. Our equity work led to us addressing the issue of student social and economic mobility. After all, we believe in the transformative power of a degree or credential, that their purpose is to lead to a self and family-sustaining career.
In the middle of this work, we were hit with a global pandemic. Lesser organizations would have buckled. But not us. As we have done before, we rolled up our sleeves and tackled this invisible adversary head-on. We surveyed many of our students and discovered thousands of them lacked access to a computer or tablet away from our campuses and centers. Many did not have reliable internet service, either. When we went all online in a matter of days back in March, this left many students in a lurch. How could they excel in an all-online environment without a computer and internet service? Undeterred, we reimagined Southwest and our responsibility to our students by purchasing 3,500 laptops to expand our laptop loan program. We also expanded our Wi-Fi service to our parking lots and purchased hotspots that we loan to students.
Safety first
Despite our best efforts, challenges still abound. Many students are languishing in the all-virtual environment. Without the high-touch service to which they have become accustomed, some have lost momentum, deciding not to continue their studies this fall, resulting in an enrollment decline of 24 percent. We considered permanently returning staff who work in such student-facing offices as Admissions, Advising and the Cashier's Office to campus to provide students access to face-to-face assistance. The current surge in COVID-19 infections prevents this course of action.
At present, the infection rate in Shelby County is above 1.0, which means the virus is actively spreading. In addition, during the first week of December, Shelby County hit an average of 443 new cases a day, the highest daily average since the World Health Organization declared COVID-19 a global pandemic March 11, 2020. Covidactnow.org rates Shelby County's covid risk level as "active or imminent outbreak," which means county residents are at extreme risk of infection. The safety of Southwest students, employees and the greater community is our highest priority, and conditions simply do not allow for this enhanced campus presence at this time.
However, on-campus registration events have been scheduled to provide students the assistance they need to enroll for the winter and spring semesters. Safety protocols will be strictly enforced and appointments are required to allow for proper social distancing. The first event is Saturday, Dec. 19 on the Macon Cove Campus. This issue of Scoop contains more information about this event and the on-campus registrations scheduled at Macon Cove and Union Avenue campuses in January.
Pandemic notwithstanding, we have come a long way since 2015. Although a global pandemic could not have been imagined when we began this journey to reimagine Southwest, you have pivoted and persisted and have found innovative ways to help our students and your fellow Southwest colleagues navigate this crisis with extraordinary agility. I am confident that we will continue to find ways to move to higher service levels for our students, our community, and our state. After all, we have moved from what to why and now have our sights on what's next. The journey continues.
I wish each of you a safe, happy, and healthy holiday season and hope to see you at the virtual annual holiday party Thursday, December 17, from 3:00 to 4:30 p.m.
Thank you for all you do.
Happy Holidays,

Dr. Tracy D. Hall
President