Southwest and TSBDC team up to offer small business advice to student-entrepreneurs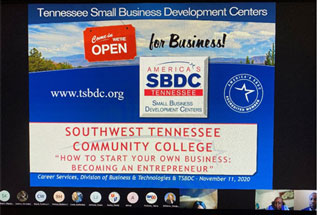 Despite the impact of the pandemic on small businesses, interest in starting a business continues to grow. Small business experts say it is about getting back to the basics—becoming your own boss and following your passion—even through challenging times. In fact, the pandemic has provided some important lessons for startups on how to adapt to changing consumer needs.
More and more college students today are combining their coursework with plans of becoming an entrepreneur, especially if their institution has an entrepreneurship teaching staff. The key factor is learning the fundamentals of how to start a business. On Nov. 11, 2020, Southwest's Career Services and Business & Technologies Department teamed up with the Tennessee Small Business Development to offer a virtual seminar for aspiring student-entrepreneurs entitled "How to Start Your Own Business: Becoming an Entrepreneur."
The inspiration for the webinar, and the program's agenda, came from student Career Services peer mentor LeKisha Finkley who wanted to offer talented Southwest students the opportunity to learn how to start a business. Finkley is an artist who designs and creates her own clay pottery. "I want to turn my art into a living and be self-employed and then take what I've learned to help other people," she said.
During the webinar, Rory Thomas, TSBDC executive director discussed the "10 Steps to Start Your Own Business" as recommended by the U.S. Small Business Administration. He also shared examples of successful Memphis entrepreneurs and how they started their businesses.
Guest speaker and President/CEO of Top Notch Security, Inc., Alfred Washington, an alumnus of Southwest, shared his entrepreneurial success story. Washington started his business soon after graduating from college and grew it to become the largest black-owned business in Memphis based on the number of employees, according to the Memphis Business Journal.
Associate Professor of Business and Legal Studies, Dr. Nathan Washington, introduced students to Southwest's new Entrepreneurship and Small Business Management associate degree and certificate programs that launched in fall semester 2020. Washington said one of the biggest downfalls of starting a business is not understanding the money – where is it coming from and how to spend it. He said both programs are heavy in finance and accounting.
Career Services Director Brenda Williams closed the webinar with an overview of the resources her department provides to students before and after starting their careers.
The TSBDC is housed at Southwest and offers free business counseling and training available by registering at www.tsbdc.org/swtcc.