SGA organizes voter registration drive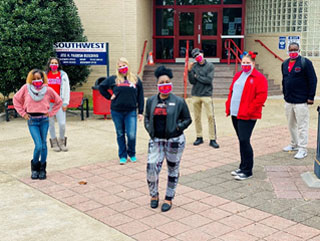 The 2020 presidential election was one of the most anticipated general elections in U.S. history. To encourage the student body to exercise their voting rights, the Student Government Association planned several initiatives to inspire students to register and vote.
The first initiative was a "Register to Vote" campaign that included prize drawings for a Southewst Swag Bag and a free boxed lunch from Jason's Deli for students who registered to vote by the Oct. 5 deadline and submitted proof of their registration. SGA announced the four winners live during a virtual "Meet Your SGA" event Oct. 13.
A second initiative was a get out the vote campaign to encourage students to go to the polls. The first 100 students who provided proof of voting with their "I Voted" sticker or a voting selfie were also given a Jason's Deli boxed lunch via a drive-thru pick up event Oct. 27 at the Union Avenue Campus. A second drive-thru event for voters was held Nov. 3 on Election Day at the Macon Cove Campus.
SGA members said the turnout was great at both events and were excited and proud to see students vote their voice, especially first-time voters.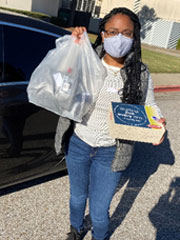 Early voter winner student Alicia Tucker picks up her swag bag and boxed lunch at the Union Avenue Campus after early voting.