SouthwestWORKS offers free robotics training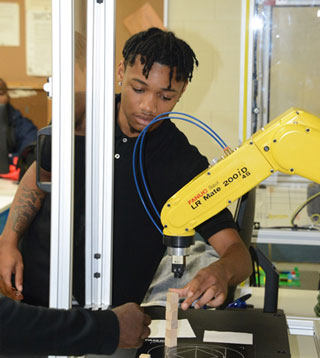 Southwest Workforce & Community Solutions, a division of Southwest Tennessee Community College, is pleased to partner with Southwest Technologies Department and the University of Memphis to establish the Mid-South Advanced Automation and Robotics Center (AARC) through a $1 million grant provided by the U.S. Department of Labor. This new center provides automation and robotics training geared specifically for veterans and marginally employed people.
"We are excited to be a part of this program that expands Southwest's position as an educator and trainer in the robotics industry," said Dr. Glenda D. Collins, SWCS program director. "Because Memphis is a hub for logistics and advanced manufacturing hubs, these grant dollars will provide many more opportunities for interested individuals to reimagine and upskill their career choices in a high-skilled, high-paying industry."
The grant will provide credit programing through the creation of a robotic maintenance course in Mechatronics, upgrades to the current robotics labs with Yaskawa robots and a Yaskawa certification for the industrial robotics maintenance course. Additionally, a non-credit workforce training program will develop individual essential skills and foundational technical skills while preparing students to sit for nationally recognized, industry developed certifications.
"Foundational training via our Amatrol Skill Boss logistics system helps to not only upskill the current workforce, but also opens opportunities for redeploying workers as they sharpen their skills to operate, maintain, troubleshoot and repair advanced robotics," said Dr. Collins.
"Our SouthwestWORKS essential skills training helps students develop transferable people and process skills that create and support positive work environments. These important skills will help students thrive in their new careers. It also is a huge bonus that students will have a verified skillset via an industry developed certification," said Dr. Collins.
Upon successful completion of the training, students may find careers as robotics operators or technicians, electric and instrumentation technicians, industrial maintenance technicians, PLC technicians or multi-craft maintenance technicians.
For more information about the robotics program, contact Dr. Glenda D. Collins at gdcollins@southwest.tn.edu or (901) 333-4207.